FROM ALL OF US AT CARIBE MARINA
HAPPY NEW YEAR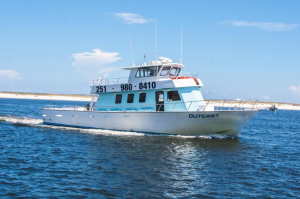 We hope 2020 is off to a great start for you and your family!
If you are familiar with us here at Caribe Marina, you know we are always looking for new ways to entertain both our Gulf Coast visitors and locals alike. With this in mind, we have decided to publish a monthly newsletter in 2020. Our goal is to provide valuable information regarding the Marina, as well as opportunities to save money! Who doesn't love to save money?
Each month you will receive an emailed newsletter informing you about fishing, rentals, cruises, and everything in between. This will be the perfect tool that you can use to plan an amazing vacation. Armed with this knowledge, you can rest assured that your stay in Orange Beach will contain wonderful memories for years to come.
As our valued guests, not only will you receive relevant information, but you will also receive coupons that will provide you with the most substantial discounts that we have ever offered! This is yet another reason to look forward to our monthly newsletter.
Without further ado, let's get started!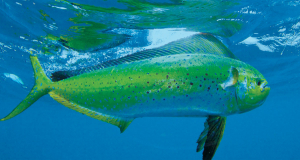 IT MAY BE COOLING OFF, BUT
FISHING IS HEATING UP
Many people assume that the colder weather yields a sub-optimal fishing experience in January, but that couldn't be further from the truth. With the right information and guide, fishing can be a great experience even if a jacket is needed to fight the brisk north wind.
Inshore fishing is certainly the more popular trip during the winter months, as cold fronts and stronger winds create unpredictable seas in the Gulf of Mexico. The Intracoastal Waterway and bays provide a more stable environment and are home to many different species of fish.
Redfish is king during inshore fishing trips in January, and our location allows for some of the best access to these fantastic fighting fish. Bull reds can easily exceed 3 feet in length and prefer to lurk around structures that provide them with hiding places to ambush bait fish, but also have easy access to deeper water such as Perdido Pass. While the larger red drum are not as flavorful, slot reds provide a delicious meal for seafood lovers.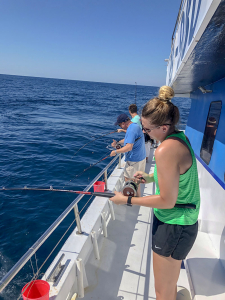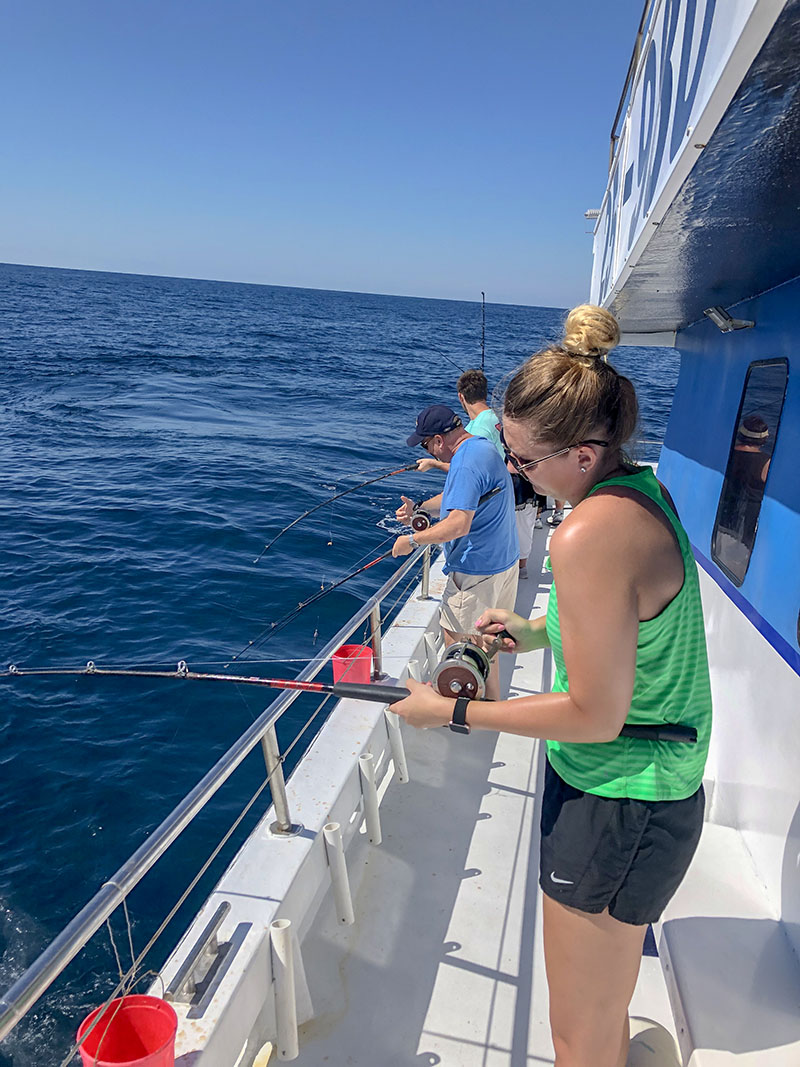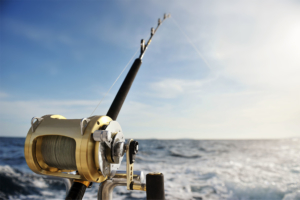 Not to be outdone, speckled trout are readily available as well this time of the year. These fish prefer shallower water and can be found in trenches chasing the live shrimp into the warmer water.
Inshore fishing is ideal for those that struggle with seasickness or desire to stay closer to land, yet still want to experience the joy of fishing. Calmer waters prevail inland, and you are always closer to the Marina should you begin to experience any uncomfortable symptoms.
During January and February, we are offering a special 4-hour inshore fishing trip for a discounted price of $100 per person! This trip will have 3-5 people on the boat and provide you with your perfect fishing experience to share with your friends. If you don't have anyone to fish with, don't worry about it! We can match up doubles or even singles with other fishermen. Mention "BULLREDS" for your discount when booking!
CRUISE THE ISLAND WITH US
AND THE DOLPHINS!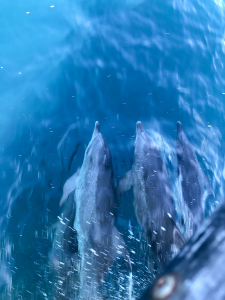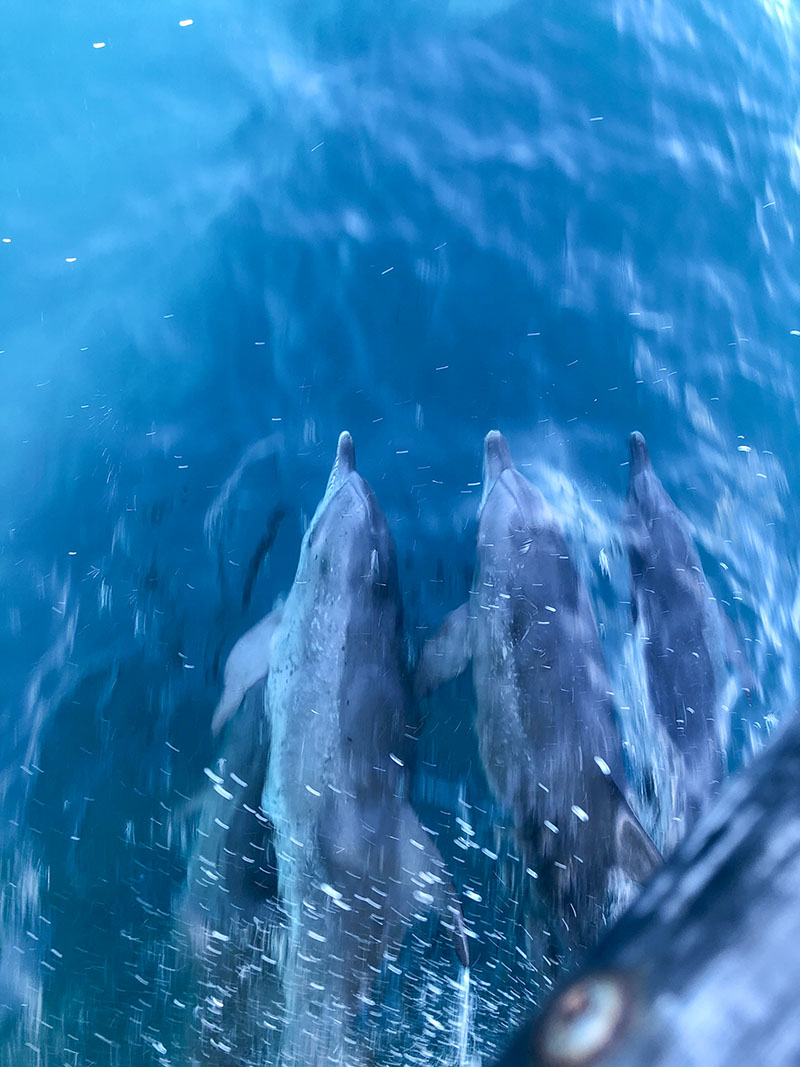 There are no shortages of dolphin cruise boats in Orange Beach, but many of them halt their operations during the winter and pursue other interests. Not at Caribe Marina! We continue to operate the Caribe Cruiser for afternoon and sunset dolphin tours Tuesday through Saturday!
The lower tides encourage these fascinating mammals to stay closer to the Marina, and we frequently see them within minutes of leaving the dock. Our knowledgeable deckhand will provide you with fascinating marine life facts while our experienced captain chauffeurs you around the islands.
During the offseason, a ticket is only $15 for our afternoon cruise and $18 for the sunset cruise. You won't find a cheaper way to spend an hour and a half on the water!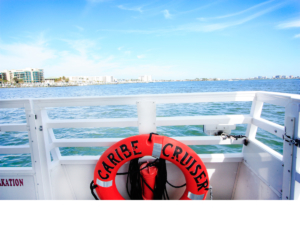 OUR RENTALS GET YOU
OUT ON THE WATER
Much the same as dolphin cruises, most boat, jet ski, and kayak rental companies take the winter off as well, due to the reduction in visitors to our area. We believe this is very shortsighted as many can attest to more than a handful of beautiful days in Orange Beach, even during January. A mid-to-upper 60-degree day can be wonderfully memorable on the water. As a result, we still offer our rentals during the offseason, and we even discount them!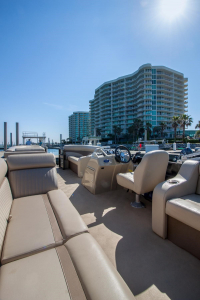 We do utilize the slower offseason to refurbish and repair all our rental boats and jet skis, so we are continually rotating what is currently available. We recommend giving us a call at 251-980-8410 to make a reservation and get up to the minute availability and find your perfect rental!