THE WEATHER IS ALWAYS BEAUTIFUL ON THE GULF COAST
FEBRUARY NEWSLETTER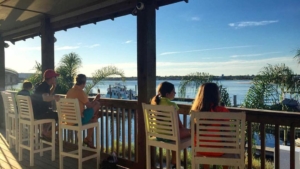 The start of spring is just around the corner! Before we know it, spring break will be here, which means February is the last month to enjoy the peace and quiet that a beautiful coastal town like Orange Beach experiences in the offseason. If you are a full-time resident, take advantage of lower pricing and smaller crowds that come with the offseason to experience the fun that Orange Beach and Gulf Shores has to offer. If you are a visitor, a quick trip to the beach during February can be just what the doctor ordered to get you over those winter blues and make it through the last push of winter in your home state.
Speaking of lower pricing, February is the last month to take advantage of the offseason discounts that we have been running since September. This includes up to $50 off boat rentals and 15% off jet ski rentals! The average temperature in February is in the upper 60's, and there are even days we see 70's in this "winter" month. Plus, you will have the waterway practically to yourself if you take a boat out during this time of the year. Finding a wet slip to park at a restaurant can be difficult during the summer, but in February, it's no problem! You can also combine our offseason pricing with any discounts or coupons that you have, so don't miss out on creating those unforgettable memories before the busyness of the season arrives.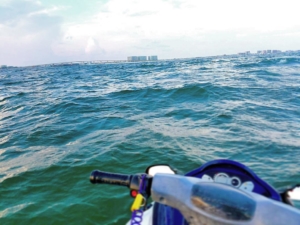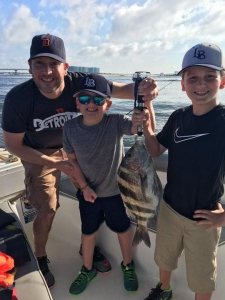 February is also the final month to take advantage of our inshore fishing special. For $100 per person, you can find yourself on a 4-hour fishing charter with less than five people on the boat. Inshore fishing is fantastic this time of the year! In addition to redfish and trout, the sheepshead bite is really starting to take off this month. Sheepshead are a peculiar-looking fish, but one of the best inshore fish to catch in Orange Beach. Easily identified by their dark, vertical stripes, they are commonly found in sizes between 10 and 20 inches but can reach up to 3 feet in length!
A unique feature of the sheepshead is not readily visible, but should you catch one, you can't miss it. As you remove your hook, you will be greeted by rows of teeth, but not ordinary teeth. These teeth are flat with rounded edges and look strangely like the molars of a human. In addition to these molars, they also possess incisor type front teeth, much like we do. As a matter of fact, their mouths look very similar to ours, except for the number of teeth they have. The numerous rows of teeth allow this fish to grind large objects in its mouth. Fascinating!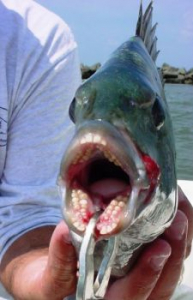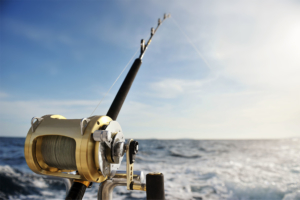 Many people wonder why sheepshead teeth look the way they do. The answer: it's all about function. The main diet of sheepshead includes oysters and clams, along with other types of crustaceans that require a lot of force to get through strong shells to the prize inside. These fish can be targeted successfully in a few ways. When available, fiddler crab is the most popular bait to catch sheepshead, and live shrimp is also an excellent choice.
The food quality of a sheepshead is on the upper echelon among fish. Taking on the characteristics of its diet, sheepshead meat is light and flaky, possessing a type of sweetness that has to be tasted to be appreciated. A 15- inch sheepshead will yield an excellent size fillet that will tantalize the pallet as well as fill the stomach!
Be sure to join us and mention "SHEEPSHEAD" to take advantage of our amazing $100 special this month. You will be glad you did!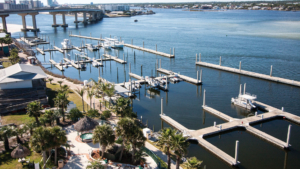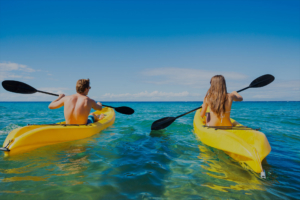 When summer begins, the boat traffic in Perdido Bay starts to pick back up, making kayaking a bit more complicated. Trying to dodge boats while navigating around the islands can be the opposite of a relaxing time on the water. That is why February is the perfect month to get outside, get some exercise, and enjoy the beautiful wildlife in Orange Beach on a kayak.
Paddling a kayak around the bay keeps you warm even when there is a slight chill in the air. From your low vantage point, you can get up close and personal with many different types of wildlife, including dolphins, ospreys, stingrays, and even the occasional bald eagle! These self-propelled kayaks offer you the ability to become one with nature as you silently glide through the water exploring the inlets of the various islands. It is quite the experience and something you won't want to miss while in Orange Beach.
Regardless of your experience level on a kayak, our professional dockhands will go over a safety checklist with you, ensuring that you are safe while on the water. All the equipment is provided for you with our rental, including paddles and life jackets. Possibly the best part of kayaking in February is the price. A mere $10 can get you an hour on a single kayak, and for $5 more, you and a friend can team up in a tandem kayak and go exploring. There are even greater discounts for multiple hour rentals! Be sure to call us today at 251-980-8410 to make your reservation!